We believe in a sustainable world
We have an internal policy: contributing to tackling climate change and help meeting the United Nation (UN) sustainable development goals. 
International business and sustainability seems difficult to merge. On the one hand flying from Europe to Africa increases carbon dioxide emissions, which in turn has a negative impact on the global climate. On the other hand, consultants are necessary in foreign countries to conduct certain assignments and provide expert knowledge. However, Scaling International does it differently:
At Scaling International, we are aware of our carbon footprint and we know that flying our consultants across the world adds up to carbon dioxide emissions. That is why we choose to be present locally. By carefully selecting our consultants within our core countries we avoid regular flying, we are guaranteed of local embedded knowledge, and have direct connections to public and private networks.   
Moreover, as of 2020 we will invest 10% of our annual profit in carbon uptake projects. We are currently analysing a renewable energy project. Stay updated on our News feed.
The sustainable development goals
The sustainable development goals are the blueprint to achieve a better and more sustainable future for all.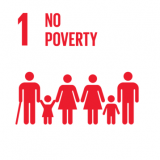 Eradicating poverty is not a task of charity, it is an act of justice and the key to unlocking an enormous human potential. Still, nearly half of the world's population lives in poverty, and lack of food and clean water is killing thousands every single day of the year. Together, we can feed the hungry, wipe out disease and give everyone in the world a chance to prosper and live a productive and rich life.
One in three people live without sanitation. This is causing unnecessary disease and death. Although huge strides have been made with access to clean drinking water, lack of sanitation is undermining these advances. If we provide affordable equipment and education in hygiene practices, we can stop this senseless suffering and loss of life.
Renewable energy solutions are becoming cheaper, more reliable and more efficient every day. Our current reliance on fossil fuels is unsustainable and harmful to the planet, which is why we have to change the way we produce and consume energy. Implementing these new energy solutions as fast as possible is essential to counter climate change, one of the biggest threats to our own survival.
Economic growth should be a positive force for the whole planet. This is why we must make sure that financial progress creates decent and fulfilling jobs while not harming the environment. We must protect labour rights and once and for all put a stop to modern slavery and child labour. If we promote job creation with expanded access to banking and financial services, we can make sure that everybody gets the benefits of entrepreneurship and innovation.
Fundraising services in Africa
info@scalinginternational.com
Copyright © 2020 Scaling international | All rights reserved